Thoughts Of Beano As College Football Swings In
Yesterday, among other things, marked the 91 year anniversary of college football expert, Beano Cook's birth. 
Some comments germane to Beano, as the tenth full college football season without him on earth, moves into full swing tomorrow.
On the anniversary of Beano's birth, two teams he was so emotionally involved with (Pro Pittsburgh, anti Penn State) scored victories more or less "on the number." I can hear Beano saying he grades his picks, based on the U.S.A. Today line.
Surely Beano would be taking another team he did not like, Notre Dame, as they are getting a generous 17 plus points in tomorrow night's tilt at Ohio State. I will predict the way Beano would have–Ohio State 28 Notre Dame 18.
Beano also would have talked about one of college football's greatest games in which 18 points was enough for a Notre Dame victory at Ohio State (18-13) in 1935.
Notre Dame won again the next year, however Ohio State has won the other 4 tilts vs Notre Dame all since 1995, two in the Fiesta Bowl. I believe they also "covered" in all 4 of those wins.
Hopefully, tomorrow night will be what Beano likened to a woman "liking" him and also paying for dinner, as would be the case if Ohio State wins by 17 points or less.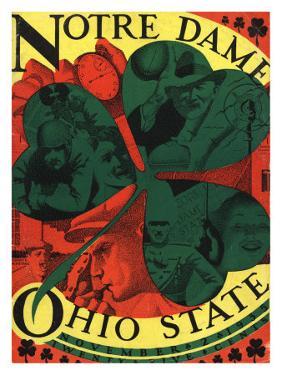 The program from Notre Dame at Ohio State in 1935.