"Exact" 56 Year "Anniversary" Of The Browns' Last Title
On this day and date 56 years ago, the Cleveland Browns won their last NFL title and the great Jim Brown's only title, when they defeated the Baltimore Colts and their beyond superb quarterback, John Unitas, by a (27-0) score, at Municipal Stadium in Cleveland.
Browns quarterback, Frank Ryan hurled 3 touchdown passes to Gary Collins, while the Bernie Parrish and Jim Kanicki led defense, shutout the Colts. Lou "The Toe" Groza added 2 field goals, the first set up by Brown's run after a swing pass.
The game was scoreless at the half. It is still a great memory for me, the brown upholstered chair, my father, mother and grandmother watching with me and "my" team won.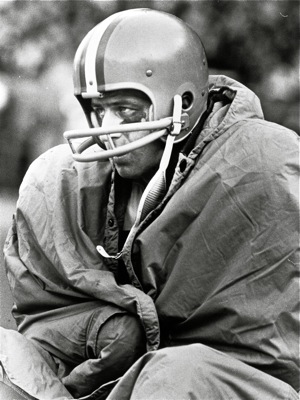 A vintage photo of Gary Collins, above. He belongs in the Pro Football Hall of Fame.