Comments, Notes, Great Bruins' "Reg"
Tonight, the last non (real) 'offs action will conclude with two essentially playoffs, albeit added by a commissioner who despite his name, W.J. Bryan would never respect, no less die for, tilts, called NBA "play in" games.
Meanwhile in the NHL, one meaningful and one meaningless tilt end its regular season. In the former, the defending champion Colorado Avalanche, need a win at Nashville to secure a "div" crown and home ice advantage, certainly through the "quarters."
Yesterday, a remarkable Boston Bruins' "reg" "downplayed by me," concluded with their (5-4) win over the Canadiens in Montreal. 
They/the Bruins "went" 65(wins)- 12 (losses) and 5 OT or (BS) shootout losses, not quite the '76-'77 Canadiens' 60 wins, 8 losses and 12 "legitimate/played 60 minutes, same score for the two contestants" ties, however, a great mark which includes most wins and points (135) in a regular season. 
Many more notes, results and some opinions in the days to follow.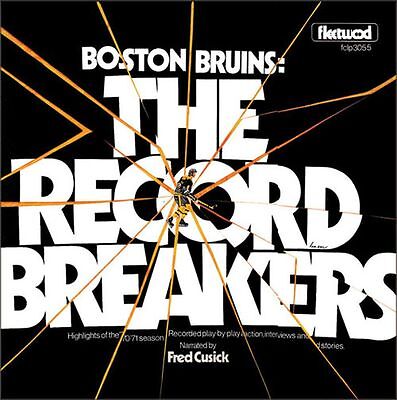 The RECORD album above reviewed the Boston Bruins' (then "my" Boston Bruins) RECORD breaking '70-'71 seasons, in which Phil Esposito had 76 goals and 76 assists, the Bruins scored 399 goals with 10 players scoring more than 20 goals.
Bobby Orr amassed 102 assists and still a rare feat, captain John Bucyk hit 51 goals.
Boston (Bruins) won it all in '70 and '72 (only in 2011, when they won #7 at Vancouver (Canucks) in the final, since) but not in their scoring record '770-'71 season. 
Montreal, so down now and still by far the all-time NHL franchise, denied those Bruins in the "quarters" led by a not yet, rookie status goaltender named Ken Dryden.
Buyer, Bruins and Bruins "Buyers" Beware!!