Emma Raducanu and Daniil Medvedev Win U.S. Open Tennis Crowns
After Emma Raducanu, (as stated here Saturday), in an "all under 20," U.S. Open final match, defeated Leylah Fernandez in straight sets to complete a mind blowing (the VSiN host said "blowout" as I typed and speaking of VSiN, Gill Alexander on it was "all over it," (the U.S. Open and the hardcourt tennis season, having a great percentage, numerous wins on Raducanu and a plus 575 "future" that also cashed) "Open" performance, in which she did NOT lose a set, yesterday Daniil Medvedev made Novak Djokovic's calendar grand slam hopes, "so far away," winning (6-4) in all 3 sets.
Thus only Don Budge in 1938 and Rod Laver in both '62 and '69 have won "calendar men's grand slams" on the men's circuit. (Noting that in those 3 years a New York team, the Yankees in '38 and '62 and the Mets in 100 win but "miracle" '69, won the title. The teams clashed over the past weekend and each currently hovering just out of playoffs qualification, while a "dangerous" (who is not in baseball if it gets in the prostituted 10 teams 'offs field?!) team if it gets in, but a long shot to "title" at this point.)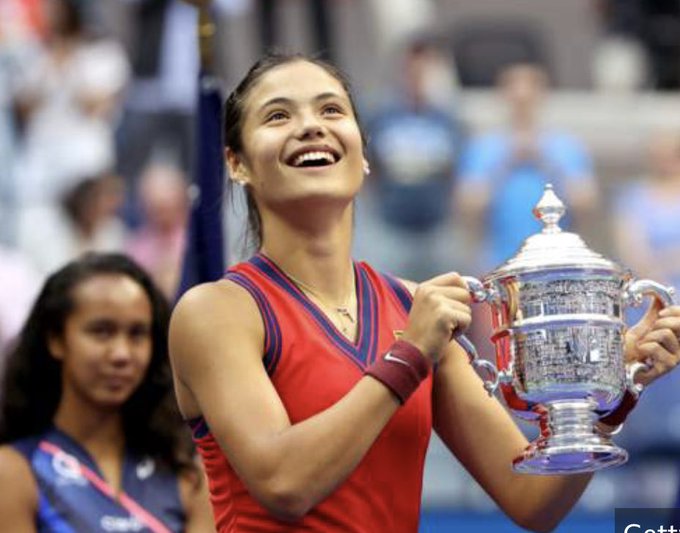 Emma Raducanu winning and holding a trophy. Leylah Fernandez, the "Open" second place finisher, also was/is a nice story.
Daniil Medvedev, pictured above.