Rare Pitching Match Up Last Night
MLB.com "informed," that last night's starting pitching match up between the Cincinnati Reds' Sonny Gray and the Colorado Rockies' Jon Gray was the first between non related, same spelling/last names that also were colors, since 1933.
Neither pitcher was involved in the decision. Each pitched very well in a game won by the Rockies (3-2), which had a projected total runs total of 12, in hitting friendly Coors Field in Colorado.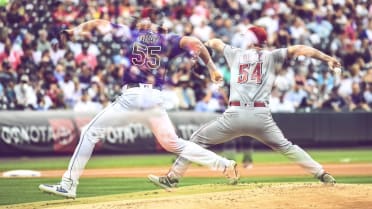 A nice photo image of the two Grays pitching.
Below more on the rare pitching match up from Stats by Stats
This is the first match up of starting pitchers with the last name "Gray" in MLB history.
The last time two pitchers squared off with the same color as a last name was Jumbo Brown (New York Yankees) vs. Lloyd Brown (Boston Red Sox) on July 26, 1933 (based on same spelling of last name).